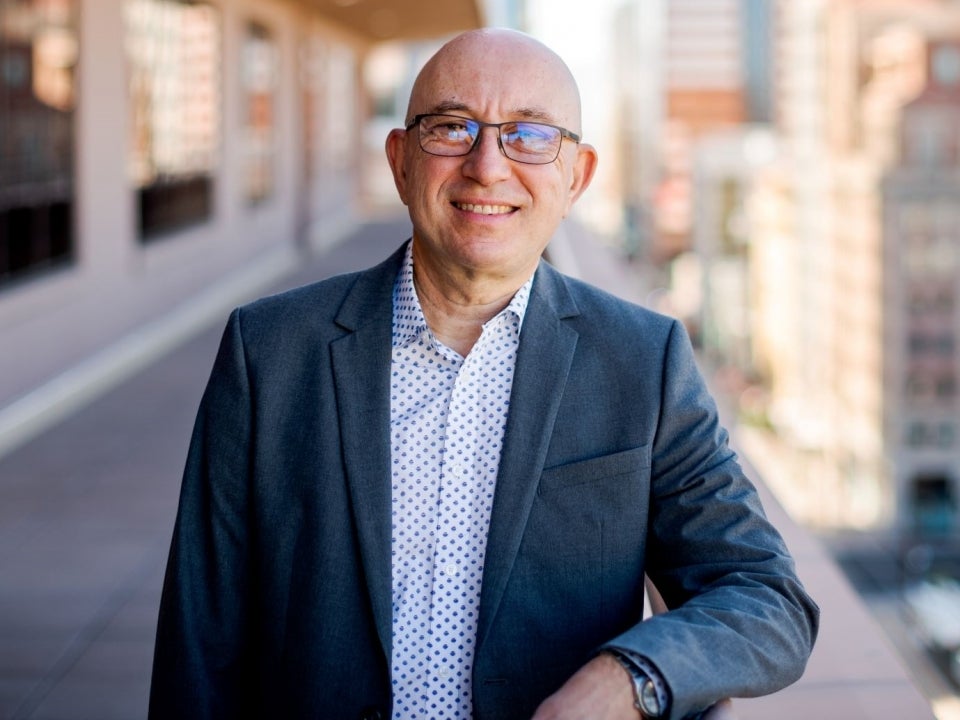 SSW professor to receive Faculty Research Achievement Award at Founders' Day ceremony
Mark J. Scarp
Regents Professor Flavio Marsiglia of the School of Social Work will be honored this week with an ASU Alumni Association award for several recent research milestones, including his role as principal investigator for a project that provides COVID-19 testing and lays groundwork for receiving vaccines for members of underserved Arizona communities.
Marsiglia, director of the Global Center for Applied Health Research (GCAHR) at Watts College of Public Service and Community Solutions, will receive the Faculty Research Achievement Award during a virtual ceremony marking the university's Founders' Day at 5 p.m. Wednesday, March 24. Attendance is free.
Saying he is humbled and honored to receive the award, Marsiglia said what makes him particularly proud is that it recognizes his community-based research efforts.
"It honors the research being conducted in partnership with underserved and vulnerable communities in Arizona, Mexico and in other countries," he said.
Marsiglia is most recently the principal investigator of a multiagency project funded by the National Institutes of Health (NIH) in which 22 communities in vulnerable populations were selected to receive free COVID-19 tests and will be prepared to receive vaccines as they become available.  Marsiglia is the founder and past-director of the Southwest Interdisciplinary Research Center (SIRC) and principal investigator of its U54 center grant.  The competitive COVID-19 award is a supplement to the larger U54 center grant in health disparities research at Watts. 
The COVID-19 award was made possible because of "our community partners, a talented and committed transdisciplinary team of investigators and staff, and by the support of funders such as the National Institutes of Health," Marsiglia said. "The list of names would be too long, but I would like to specifically acknowledge the co-principal investigators and staff members of the COVID-19 (RADx-up) project, who rapidly and efficiently responded to the major public health crisis we are facing."
GCAHR also conducts intervention health research in partnership with universities and communities in China, Guatemala, Israel, Kenya, Mexico, South Africa, Spain, Taiwan and Uruguay.
Marsiglia's research on cultural diversity and youth substance use is widely recognized and highly influential in the prevention field and credited with a measurable reduction in drug use and other high-risk behaviors among youth in Arizona, across the U.S. and in other countries.  He has developed and tested culturally grounded interventions to prevent substance abuse, especially among Latinx and other minority populations of the Southwest, including the school-based Keepin' it REAL — an adolescent drug prevention program designated among the Top 100 in the MacArthur Foundation's 100 & Change competition.
Marsiglia is the co-author, with Stephen S. Kulis and Stephanie Lechuga-Peña, of the textbook "Diversity, Oppression & Change," published by Oxford University Press, whose third edition was released in January 2021.Founders' Day is ASU's signature event, at which distinguished faculty, alumni and philanthropists receive awards commemorating their service to the ASU community and the world at large.
The 2021 event is a live virtual celebration available to view on ASU Live and LinkedIn. For more information about the event, visit alumni.asu.edu/founders-day.
This article reports on three of the five main aspirations of the Watts College for Public Service and Community Solutions:
Community, through its mentions of stewardship of public goods, trust in public institutions and responsible innovation.
Equity, through its mentions of accessibility and inclusion, and child and youth well-being.
Potential, through its mentions of recovery and healing, and leadership and management.
This article contains information compiled by Morgan Harrison of the ASU Alumni Association and Mark Scarp of the Watts College of Public Service and Community Solutions.
About GCAHR
The mission of the Global Center for Applied Health Research is to design, implement, and test evidence-based and culturally appropriate interventions to improve the health and wellbeing of children/youth and families around the world through equitable research collaborations between transnational teams of researchers and community partners. This mission will be achieved through two main activities: 1) facilitating collaborative and culturally appropriate research studies and 2) strengthening research training and capacity building across borders.