Barriers and Resources for People with Severe Mental Illness (SMI) in South Korea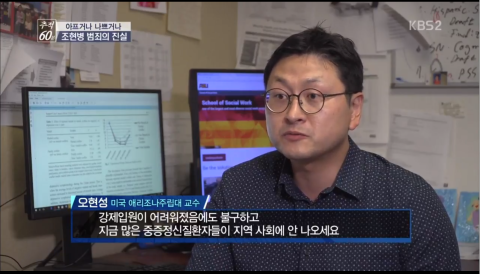 Target Population:
Individuals with severe mental illness in South Korea 
Project Team
:
Oh-Yong Kwon, J.D., PI; Hyunsung Oh, PhD, PI
Project Status: Completed
In collaboration with an advocacy group for people with severe mental illness (SMI) in South Korea, this project investigates the consequences of their involuntary hospitalization and changing policies and practices.
Provision of resources for people with SMI, stigma,  deinstitutionalization,  reintegration into the community.
Mixed methods involving qualitative and quantitative data collection from people with SMI, their family members, and a variety of mental health service professions. 
Oh, H. & Park, S. K. (2020). Gender and stress-buffering of social capital toward depression among precarious workers in South Korea. WORK: A Journal of Prevention, Assessment, and Rehabilitation, 66(1),53-62. doi:10.3233/WOR-203150
Media Coverage:
In-Depth 60 Minutes: The Truth of Schizophrenia and Crime in the Korean Broadcasting System (KBS), aired August 29, 2018
The KAMI and Dr. Hyunsung Oh collaborated with the In-Depth 60 Minutes, an investigative television show, to cover a variety of evidence-based crisis intervention programs in Arizona, such as the Crisis Intervention Training for law enforcement officers and peer-support services for people with SMI. We believe this media exposure about mental health services in Arizona will help South Korea to explore evidence-based interventions supporting people with SMI to reintegrate into the community with fewer barriers.
Op-ed in the Munhwa Newspaper, published August 10, 2018
This Op-ed responds to the recent idea of governmental officials amending the existing Mental Health Law. The amendment seems hastily crafted in response to a police officer killed by a man previously diagnosed with severe mental illness. The Op-Ed argued that amending the existing Mental Health Law doesn't even recognize the underlying forces that have hindered mental health services being developed and provided to people with SMI living in the community. The existing pay schedule of the single-payer government health insurance doesn't reimburse evidence-based services delivered by non-psychiatrists, such as social workers. As a result, extremely prolonged hospitalization is the most preferable choice of services among people with SMI.