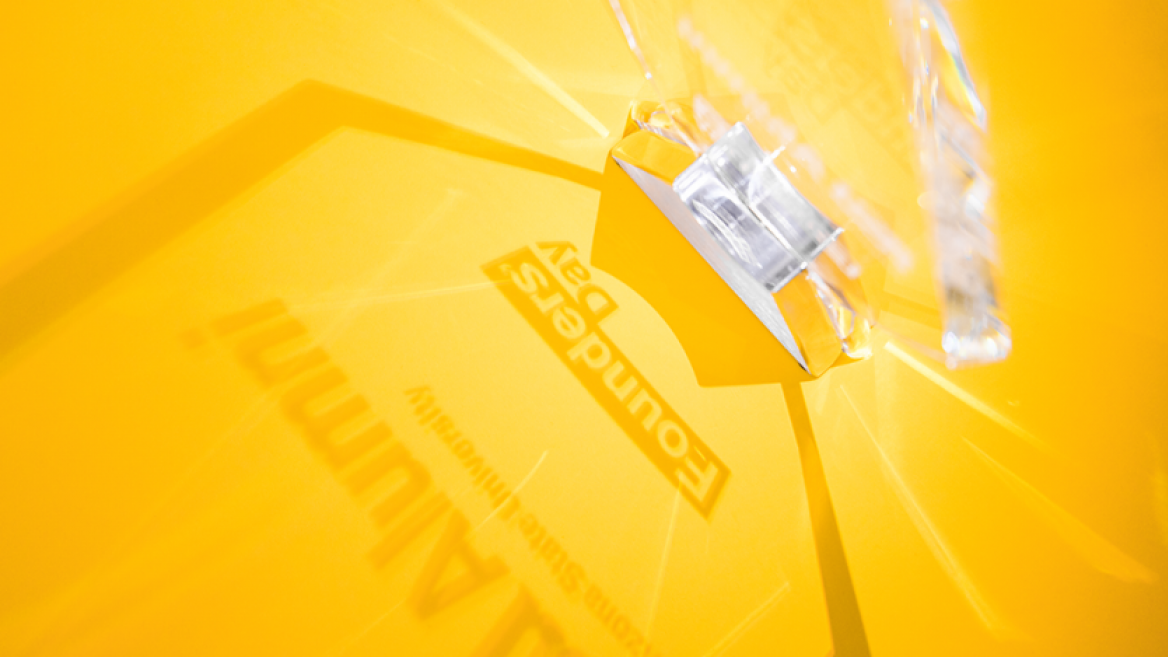 Meet the 2021 ASU Founders' Day honorees
Morgan Harrison
The ASU Alumni Association Founders' Day awards program honors the pioneering spirit of the institution's founders and celebrates the innovations of alumni, faculty members and supporters of one of the nation's fastest-growing knowledge enterprises.
This year's event will take place virtually at 5 p.m. MST/PST, Wednesday, March 24. There is no cost to attend the virtual celebration.
Covering a wide range of areas, the awards acknowledge excellence in teaching, research, leadership, philanthropy and service. These honors include the Faculty Research Achievement Award, the Faculty Service Achievement Award, the Faculty Teaching Achievement Award, the Philanthropist of the Year Award and the Alumni Achievement Award.
The 2021 awards program will honor an alumna who has disrupted the beverage industry; a professor whose knowledge and contributions have had a global impact on mental health and diversity research; an economics professor selected to advise on enhancing opportunities for Black students, staff and faculty at ASU; a professor who wouldn't let a pandemic hinder students' ability to play music; and more than 350,600 donors who together made a tremendous impact on ASU.
Here are the honorees of the 2021 Founders' Day event.
Faculty Research Achievement Award
Flavio F. Marsiglia is a Regents Professor at the School of Social Work in the Watts College of Public Service and Community Solutions. He is the founder and director of the Global Center for Applied Health Research, which conducts intervention health research in partnership with universities and communities in Burundi, China, Guatemala, Israel, Kenya, Mexico, South Africa, Spain, Taiwan and Uruguay.
In the wake of the pandemic, Marsiglia played an integral role as principal investigator on a multiagency project funded by the National Institutes of Health, selecting 22 communities in vulnerable populations to receive free COVID-19 testing and setting the stage for these underserved communities to receive the vaccine.
Marsiglia's research on cultural diversity and youth substance use is widely recognized, highly influential in the prevention field and credited with a measurable reduction in drug use and other high-risk behaviors among youth in Arizona, across the U.S. and in other countries.
He has developed and tested culturally grounded interventions to prevent substance abuse, especially among Latino and other minority populations of the Southwest, including the school-based Keepin' it REAL — an adolescent drug prevention program designated among the Top 100 in the MacArthur Foundation's 100 & Change competition.
Faculty Service Achievement Award
Jeffrey R. Wilson, who has a PhD in statistics, most recently was appointed as co-chair of ASU's new Advisory Council on African American Affairs. Wilson works alongside ASU faculty, staff and students, assisting President Michael M. Crow in finding ways to overcome the systemic issues of racism and injustice at the university, local and national levels.
Wilson is an ASU professor of statistics and biostatistics with extensive experience in the biomedical, statistics and law, business management and public opinion research industries. He has served as an expert witness in legal cases concerning construction defects, sampling, insurance, patient billing, job discrimination, shoplifting and cheating allegations on law school exams — in addition to working with attorney general offices in Minneapolis, Flagstaff and Phoenix on racial profiling.
As service to the profession, Wilson recently co-authored a book with Katherine E. Irimata and Brittany N. Dugger titled "Fundamental Statistical Methods for Analysis of Alzheimer's and Other Neurodegenerative Diseases."
In addition to Wilson's academic contributions, he provides national representation and support to Sun Devil Athletics. He is the ASU faculty representative to the Pac-12 and also a longtime member and past chair of the Sun Devil Athletics board.
Faculty Teaching Achievement Award
Equally at home in opera and musical theater, and involved with the development of more than two dozen new works, Brian DeMaris has established a national reputation as a renowned performer and highly impactful educator.
Currently an associate professor and artistic director of music theater and opera at ASU, DeMaris has most recently innovated new ways of practicing and performing — working with faculty and students to incorporate technology to enable live performances, addressing issues of systemic racism and inherent bias in musical theater and opera, and collaborating with the greater university and musical theater and opera staff and faculty to produce new "outdoor rooms" for students with shaded seating, power, lighting and Wi-Fi.
DeMaris has produced developmental workshops of six new works at ASU with professional collaborators including American Lyric Theatre, Beth Morrison Projects and the Phoenix Theatre Company.
Alumni Achievement Award
For Kara Goldin, developing a drink that helped her to stop drinking diet soda was a personal quest. She was looking for a flavored water that used fruit for taste without having any sugar or diet sweeteners in it. She couldn't find a drink like this and realized that it didn't exist, so she developed it. What was born in her kitchen developed into a company and an entirely new category within the beverage industry. Hint started in San Francisco in 2005, and is now the largest nonalcoholic, privately held flavored water company in the U.S. today that doesn't have a relationship with the large soda companies.
Goldin has received numerous accolades, including being named EY Entrepreneur of the Year 2017 Northern California, one of InStyle's 2019 Badass 50, Fast Company's Most Creative People in Business, WWD Beauty Inc.'s Feel Good Force and Fortune's Most Powerful Women Entrepreneurs. The Huffington Post listed her as one of six disruptors in business, alongside Steve Jobs and Mark Zuckerberg.
She is an active speaker and writer and in 2017, she launched her podcast, "The Kara Goldin Show," where she interviews founders, entrepreneurs and disruptors across various industries. Goldin's first book, "Undaunted: Overcoming Doubts and Doubters," published by Harper Leadership, was released in October 2020 and is now a Wall Street Journal and Amazon Bestseller.
Philanthropists of the Year Award
Because of their unsurpassed generosity, donors to Campaign ASU 2020 are the 2021 Arizona State University Founders' Day Philanthropists of the Year. A decade ago, ASU launched the universitywide fundraising campaign to unite our growing body of supporters around the idea that, together, we can improve lives and influence society for the better.
More than 350,600 supporters raised $2.3 billion to fuel ASU's innovative, world-changing educational model that serves students, local and global communities, existing businesses and rising entrepreneurs. Their gifts powered many breakthroughs and successes and laid the groundwork for a future full of possibilities.
Find additional information about Founders' Day or register for the event.