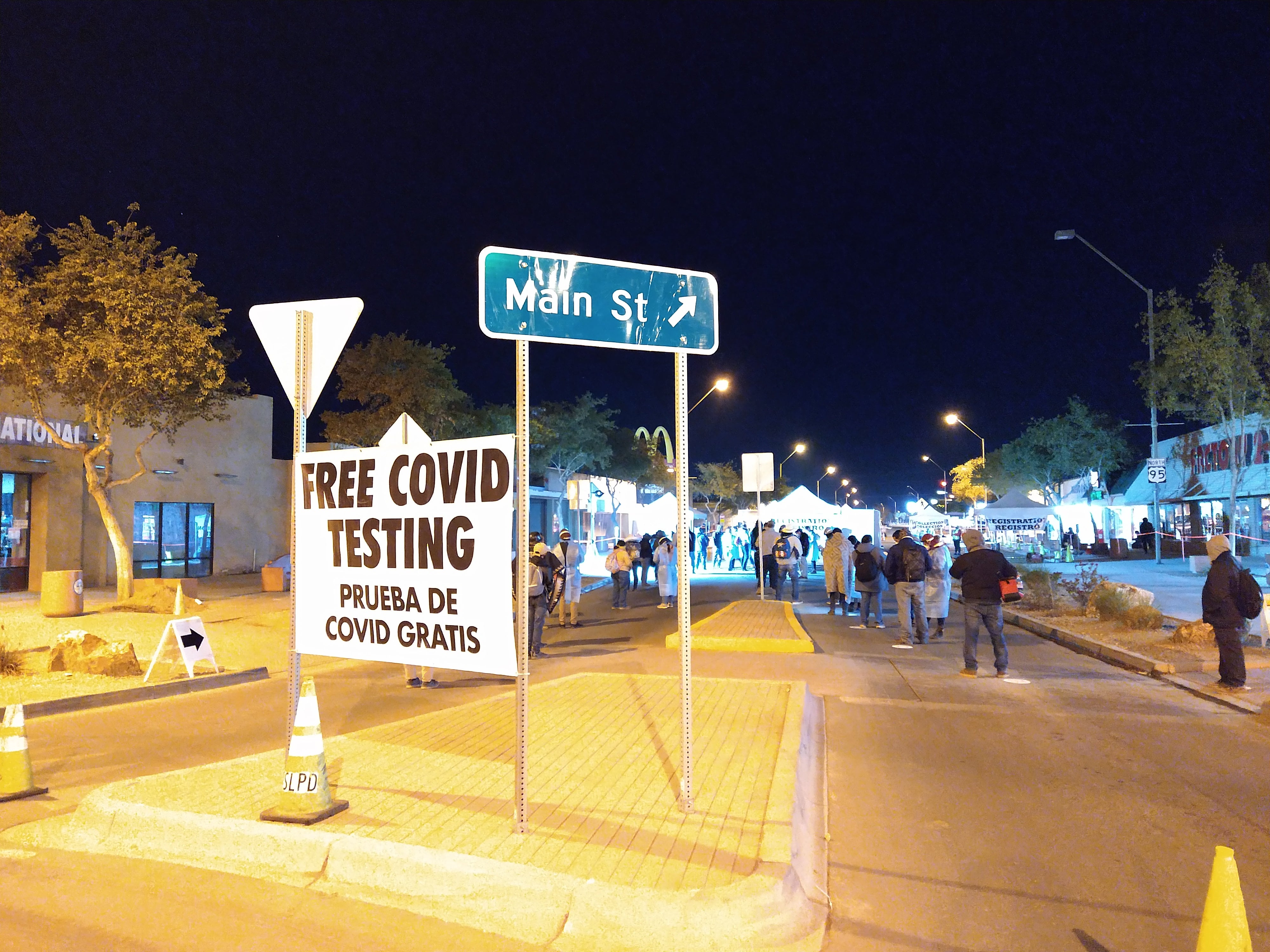 GCAHR visits Yuma County to provide much needed COVID-19 testing
As part of an NIH funded project titled "Eliminating COVID-19 disparities in Arizona in partnership with underserved/vulnerable communities", Community Health Workers and military nurses were deployed to South Yuma County, Arizona on January 14th and 15th, 2021 to provide free COVID-19 tests to underserved residents of Yuma County. According to The New York Times, "Over the course of the pandemic, the Yuma area has identified coronavirus cases at a higher rate than any other U.S. region. One out of every six residents has come down with the virus.". On the first day, the testing event was held in San Luis, a city near the US/Mexico border that serves as a coordination point for migrant farmworkers.
In the article written by Miriam Jordan, Dr. Flavio Marsiglia, director of the Global Center for Applied Health Research at Arizona State University is quoted as saying, "We believe many of those young people are positive with no symptoms and spreading the virus. They ride buses that are very crowded, work very close to each other in the field, share food," he added. "It's very easy to spread the virus in those conditions". Within the community, a majority of the population are migrant workers traveling to Yuma for agriculture and older individuals residing in retirement communities. For the second day of the event, local Community Health Workers, or Promotoras, from Campesinos Sin Fronteras and Helping Families in Need, traveled to a retirement community of seniors with mobility challenges and provided door-to-door testing.
The referenced media source is missing and needs to be re-embedded.
Approximately 425 tests were administered to members of the community throughout the 2-day event, which comes at a time when Yuma County is experiencing a high prevalence of COVID-19 cases and lacking adequate testing resources in the area. According to Anita Snow of the Associated Press, "Yuma County's soaring numbers come as Arizona's COVID-19 diagnosis rate ranked the worst in the U.S. over the past week, at one in every 120 people." With only one hospital in Yuma County, the facility is facing severe hardships while they respond to a rapid increase in cases, leaving many patients having to be relocated via helicopter due to lack of proper resources and space. In the article "Military nurses, test coming to help hard-hit Arizona city", Dr. Marsiglia emphasized the need for providing services to underserved communities, "We are trying to get to these hard-to-reach parts of society that are always left behind."
To read the full news articles visit AP News and The New York Times website.